My Workspace.
My Studio.
Made in Baltimore.
My first "studio" was our two-car garage. Living in the city, a two-car garage is very literal; it fits two cars and not much else, but after employing some very clever shelving and Tetris-like strategies, I was able to cram in both of our cars, as well as my ever-growing list of tools. But working in there meant removing one or both cars, deploying my tools, setting up work areas, and putting it all back at the end of the day to park the cars again. That workspace served me well for almost seven years. Every time a neighbor would walk by, they would ask, "What do you do with all these tools?" I was always proud to walk them around our house, show off the latest projects and things on our next to-do list. Although, it was a very convenient (and cheap) space, I was finding I was limited in the size and scope of my projects.
My first "studio" was our two-car garage.
As I became more proficient, one-day projects turned into weekend projects and eventually morphed into month long (or more) adventures. This wasn't an issue during the summer, but would become frustrating during snowstorms when we really needed to park inside or when I would have to periodically stop and clean all the wood/metal dust off everything else we stored in the garage.
Once I became more established, I took time to work on my passion, and expanded by obtaining a flex warehouse space where I could set up a larger area to create some bigger pieces and begin building up an inventory. Monkey in the Metal now had a permanent home.
MY TOOL MANTRA
I am an advocate for buying vintage American made tools. In my opinion they are the best when it comes to the large pieces of industrial equipment that get the job done well. Some of the items I buy will be heirloom items that I can pass down to my grandkids when the time comes. There's just something about a vise made in 1942 that can't be duplicated in today's world at a price that is obtainable. I spend time every day (and I really mean everyday-even vacations) scouring the Internet for vintage American made tools. If you want to build something great, I've found out the hard way, you need to invest in tools that let you create to the best of your ability.
MY TOOL INDEX
Metal Working Tools
I
Buying a Welder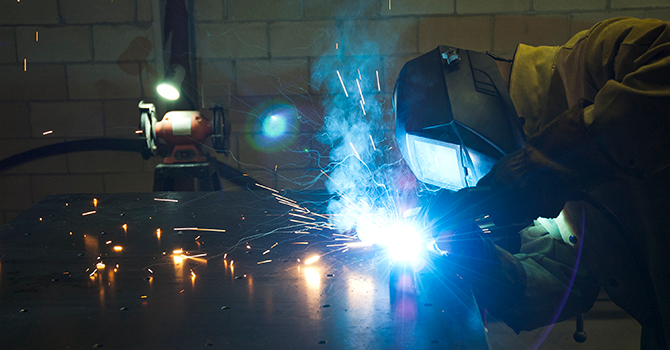 Buying a Welder
Coming from a background of Finance and Economics, I have to say that Welding Equipment really has to be some of the best investment vehicles out there. It seems like once they've depreciated to a certain level, it stays there forever, no matter how old it is. You can see some of the 30-40 year old welders that cost the same as a 5-year-old version. I believe that has to do with the fact that the older welders are almost bullet proof. They weigh a ton, take up a lot of space, take a great deal of power to operate, but you can drop them from a plane, dust it off, plug it in, and it will still work seven days a week without a break. I didn't have much luck finding a used welder, so I saved up my credit card reward points and bought one from my local welding supply house. Now, I am a person that buys 99% of my new purchases from Amazon, but this is one of those things I advocate buying locally from a real person, even if it costs a few bucks more. The reason is support. When your machine doesn't work right on a Friday and you have a big weekend long project planned, you don't want to have to mess with sending it in to be fixed or taking it to a repair shop that will charge you an arm and leg just to look at it 3 weeks from now. I've had phenomenal service from my local welding supply house and they take care of me, even though I have only bought two machines from them in the last 6 years. They treat me the same as the larger companies that buy dozens of machines from them every year. You can't put a price on that kind of service. It just doesn't exist anymore in this world.
II
Tube Benders / Press Brakes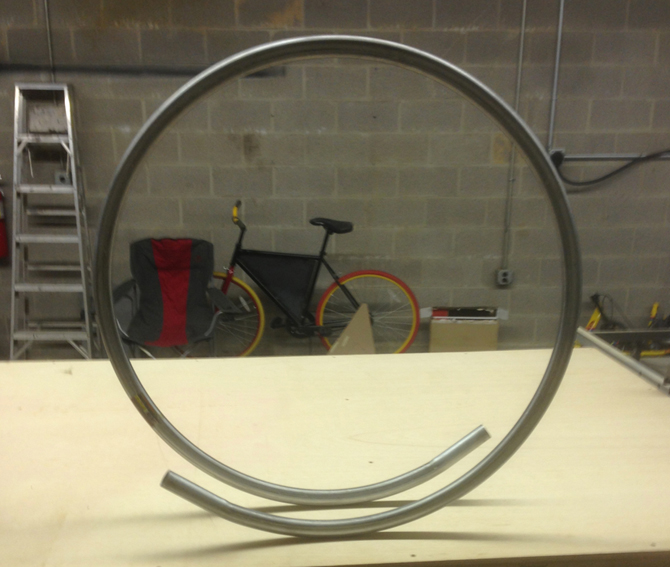 Tube Benders / Press Brakes
After you know you can cut metal and weld it into new shapes, you start to think, I need to be able to bend it into new shapes as well. A good quality US built bender is thousands, if not, tens of thousands of dollars and for the amount I need to bend, it wasn't a good investment. So, I did the next best thing, which is buying a cheaply made one and modify it with quality American components. This is where Swag Off-Road (company specializing in metal fabrication tools) has been a huge help to the all of the Extreme DIY'ers out there. They make a kit to retrofit a $200 bender and make it into something that would have cost thousands of dollars used, let alone new. It really opens up some possibilities with what you can do with metal.
III
Compressed Air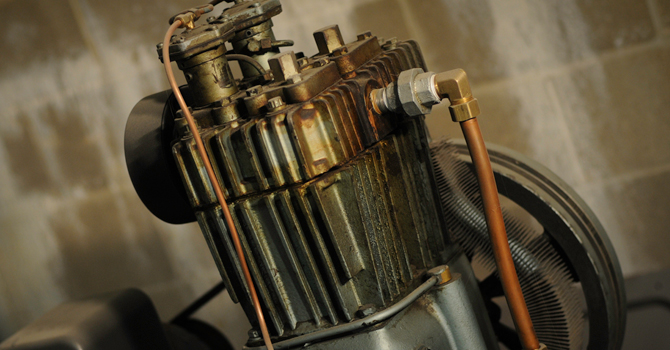 Compressed Air
Quincy makes some of the best examples of what good quality American engineering can do. This compressor is from 1968 and operates exactly as it did when it was first put in service. Even better, when it does break, you can still buy all the parts necessary to rebuild it and it will be good for another 50,000 hours of service. This thing is a tank, but it runs so quiet and smooth, you can talk on the phone while standing next to it. I spent years tracking one down, since I was long tired of the ear splitting unit I had that could be heard at the end of the block- even with the garage door closed. I never got to apologize to my neighbors for all that racket I created with that thing over the years. I think they were just happy to know the noise stopped one day and never returned.
IV
Metal Bandsaw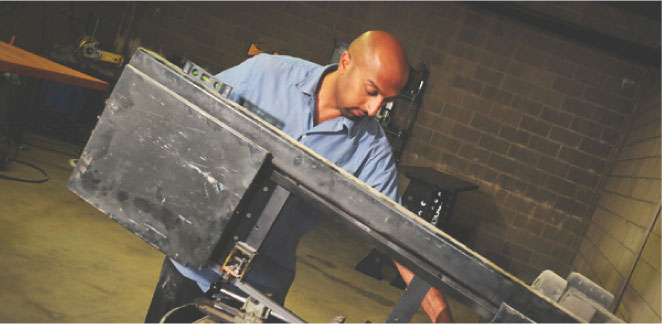 Metal Bandsaw
I needed a better way to cut metal. I started out using a hand held grinder with a cut off disc. It was loud, messy, and hard to get a good cut, not to mention a little dangerous. Next, I graduated to an abrasive cut off saw, which was still loud and messy, but a little more accurate. Then I decided that I like my hearing a little more than I thought and moved on to a small Taiwanese horizontal bandsaw. It was quiet and clean, but I spent more time tuning it than cutting with it. One day, the motor gave out and I wasn't going to spend money fixing it.
I decided I was going to get an American made saw even if I had to buy it new. But the prices were shocking- for a hobbyist. You had to willing to part with $3,000+ before you really entered the realm of 'just ok' saws. I couldn't justify the cost, but time was important to me and I needed something to step up production and get better accuracy. After months of scouring the Internet, I found someone selling an US made Ellis 1800 bandsaw. This thing was massive- almost 700 lbs- and way more saw than I needed, but he only wanted $500 and these go for $3500 new. So, I rented a truck with a lift gate and drove 90 miles to go pick it up. I show up and this thing looks bad, I mean, it looks like it was used in demolition derby bad. I had done my research ahead of time and knew that all parts were still available for it and it could be rebuilt from the ground up for less than the price of new. So, I haggled him down to $400 and got it on the truck. I tried my best not to think of where I was going to store this thing when I got back to my garage at home.

V
Drill Press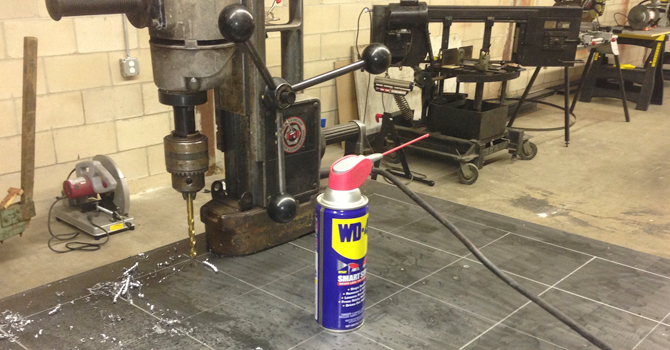 Drill Press
I have two. The first one, I'll admit, isn't an American drill press, but I'm still on the lookout and once I find it, this will get retired on craigslist. However, it's been one of the best purchases I made when it comes to speeding up production and accuracy. I can't wait to see what a real drill press can do when I get one.
The second one is a magnetic drill press that I got from an auction of the contents of the Bethlehem Steel Mill. It's great for taking the drill to projects that are too big for my stationary drill press. This Black and Decker mag drill is built like a tank, weighs close to one, and makes me happy to own a piece of Baltimore history every time I switch it on.
One day I would love to own a Bridgeport Mill that can perform as a drill press and milling functions, but that is probably a little down the road.
VI
Plasma Cutter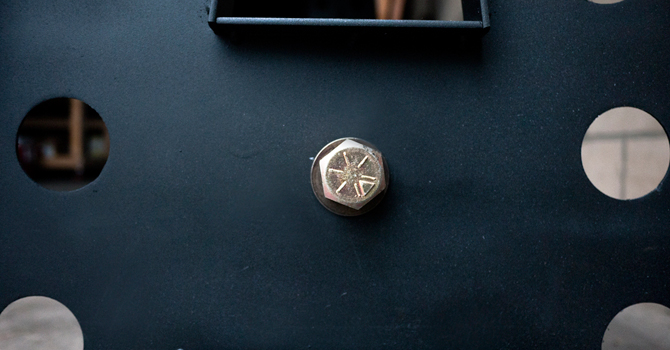 Plasma Cutter
Thermal Dynamics Cutmaster 52- So, this was a bit of splurge item, but wow is this thing fun. I mean you can slice through thick steel plate like a hot knife through butter and it doesn't even flinch. My goal is to eventually build this into a CNC machine that can cut out intricate shapes instead of having to farm that work out of my shop.
WOODWORKING TOOLS
I
Table Saw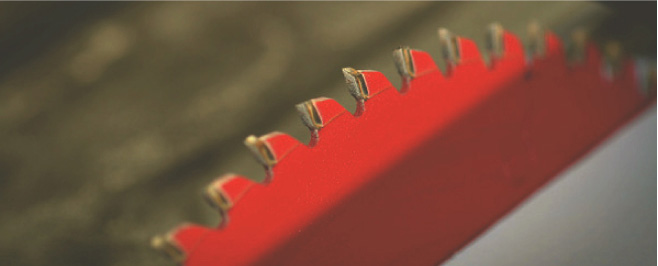 Table Saw
My dad bought me my first table saw when I began doing home improvement projects. It was something either of us had never owned but he saw how beneficial it would be for me with some of the bigger things I was building. He went to the local big box store and purchased an entry level unit that was fairly portable and easy to store. I liked it and served me well building entertainment centers and cabinets. However, it did not survive the move to my new warehouse (the movers didn't strap things down as well as they should have, but they compensated me for it). I started looking for an old Rockwell or Delta on craigslist, but came up empty handed and I needed something right away to keep working. So, I went to Home Depot and bought the best Ridgid saw that they made. I was impressed with the reviews online and in the woodworking forums, so when I made my first cuts with it, I was extremely impressed with the quality of cuts I could achieve and wondered why I had waited so long to upgrade this critical piece of equipment. I built an 8' long outfeed table for it and purchased a jig for doing tenons. The combination of the table saw and the jig had allowed me to do just about anything my mind could come up with. I still keep an eye out for the cast iron Delta/Rockwell saws, but I'm in no hurry to replace it just yet.
II
Planer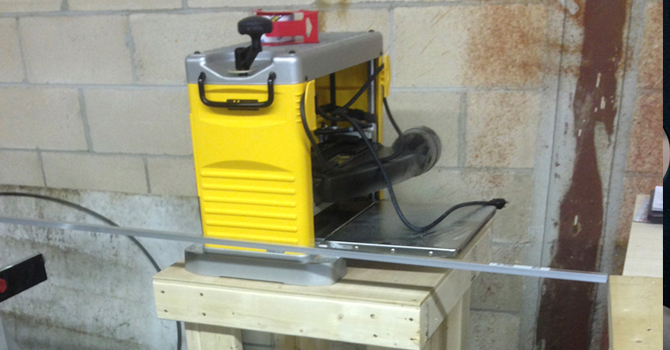 Planer
I really like working with reclaimed wood and this was must have for me. Dewalt makes a great entry level planer and one day I'll upgrade it when I need to speed up production, but for now, this was a great purchase for the money. I've spent 8 hours at a time planing hundreds of board feet and it's never given me a single issue.
III
Miter Saw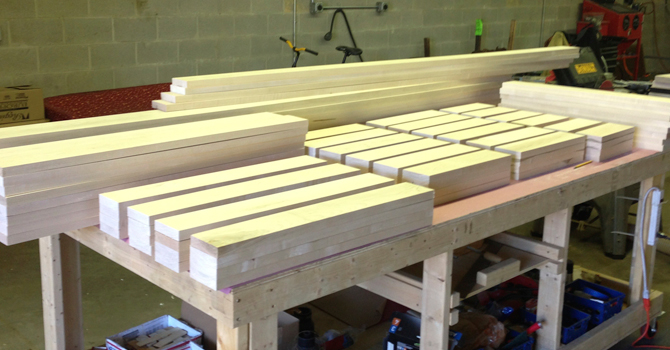 Miter Saw
I bought this saw years ago, one of my first tool purchases. It's a smaller 10" Hitachi and has its limitations now that I'm doing bigger projects, but for the money, you can't really get a better saw. It's accurate, durable, and has been with me since the beginning. It will always have a place in my shop long after I move on from it.
IV
Router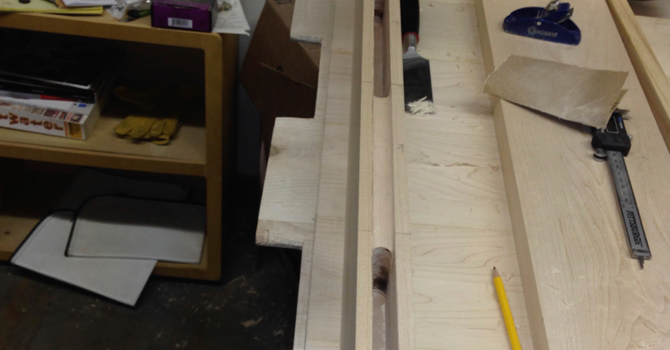 Router
I've never owned or used a router until recently, but I needed to get one when I started tackling some all wood projects. I purchased a slightly higher end Bosch Router with some accessories and a router table. There is a little bit of learning curve with using a router and I've found that you have to be willing to build a custom jig for just about anything you plan to cut more than once, but once you have a couple jigs built and spend the time setting it up correctly, you can achieve some absolutely stunning and precise cuts with it. After I did about 100 mortises with it, I've become very comfortable with it and find myself using it more and more. It is a tool that I cannot live without.
Thanks for visiting my Studio!
Check back often for more tool updates and as I upgrade to bigger machinery.